DR. ROGER OLADE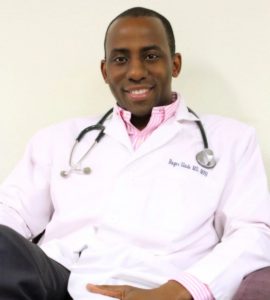 Having been honored with several medical awards all from the United States of America including multiple awards of Top American Physician. He has brought over 20 years of world-class medical expertise and experience to healthcare practice in Nigeria. His sphere of medical practice is multilevel, cutting across medical specializations such as internal medicine, emergency medicine, critical care medicine and preventive medicine. He has also spread his professional tentacles into the field of healthcare management and consulting.
Dr. Roger Olade is affiliated with various American medical organizations such as the American College of Physicians, American College of Physician Executives, Society of Critical Care Medicine, European Society of Intensive Care Medicine, American College of Occupational and Environmental Medicine, and American Association of Bariatric Physicians. Dr Roger Olade is a respected fellow in the healthcare industry and the recipient of several awards such as Award of Academic Excellence by the American Society of Internal Medicine, he is a distinguished Harvard University Cabot Fellow and a multiple recipient of America's Top Physicians Excellence Award amongst others.
Historically, his medical education background shows that Roger holds a Master's degree in Public Health from Harvard School of Public Health and a Fellowship in Occupational and Environmental Medicine with a focus on Toxicology from Harvard Medical School. His internal medicine training was at The Brooklyn Hospital Center, Cornell University and doctor of medicine degree from the University of Ibadan Medical School in Nigeria. Dr. Olade is still in active practice in Emergency Medicine and Critical Care Medicine in Houston, Texas.
Dr. Roger Olade currently serves as the Chief Executive Officer and Chief Medical Director at Genesis Specialist Hospital, Lagos, Nigeria.
DR. GBADEBO ADEBAYO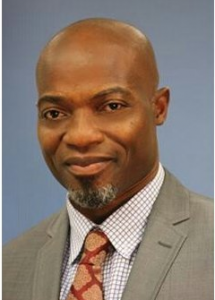 Dr. Gbadebo Adebayo is a seasoned anesthesiologist and Interventional Pain specialist with over 20 years of experience in the medical practice of anesthesiology and pain management. Dr. Adebayo is currently an attending Anesthesiologist and Director of Anesthesia, Abrazo West Regional and Trauma Center in Phoenix, Arizona, United States. He is also presently a consultant and Director Intervention and Cancer Pain Management, Cancer Treatment Center of America, Western Regional Medical Center, Phoenix, Arizona United States. Dr. Adebayo's professional educational background spans various spheres of the medical field between the United States and Nigeria. Having bagged an MBA from Thunderbird School of Global Management Glendale, Arizona, Dr. Adebayo also attained his Pain Management Fellowship from Baylor College of Medicine/MD Andersen Cancer Center, in Houston, Texas and did his Anesthesiology Residency at the State University Hospital Brooklyn, New York.
He obtained his Internal Medicine Residency at Long Island College Hospital Brooklyn, New York. He obtained his Doctor of Medicine from the University of Ife, Ile-Ife, Nigeria. Dr. Adebayo registers his membership with reputable professional based medical organization in the United States such as American Society of Anesthesiologists, International Association for Study of Pain, American Association of Health Executives, Texas Society of Anesthesiologists, International Spinal Injection Society, International Society and the Nigerian Medical Association. Debo was honored and awarded with the Dean's Teaching Excellence Award from the University of Texas Health Science Center at Houston Medical School Houston, Texas. He serves as the Chief Of Anesthesiology and Critical Care Medicine at Genesis Specialist Hospital.
DR. AYOTUNDE ADEYERI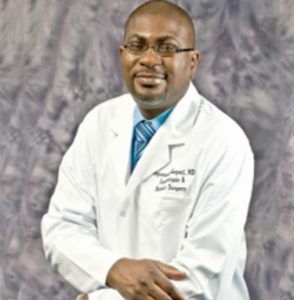 Dr. Ayotunde Adeyeri is a board certified and fellowship trained general surgeon. He is the Medical Director at Sterling Surgicare, Holmdel and The Institute for Weight Loss at Raritan Bay Medical Centre, Old Bridge, both in New Jersey. He has extensive experience in performing a wide array of general surgical procedures, as well as highly complexsurgical operations including laparoscopic weight loss procedures like the gastric sleeve, gastric bypass, Lap Band surgery, and revisional bariatric procedures. As of 2014, Dr. Adeyeri has received more than 100 positive patient reviews.
Dr. Adeyeri is board certified by the American Board of Surgery. He is a Member of the Society of American Gastrointestinal Endoscopic Surgeons (SAGES), American Society for Metabolic & Bariatric Surgery (ASMBS), and American College of Surgeons (ACS). DrAdeyeri completed his general surgery residency at Columbia University at Harlem Hospital Centre in New York, where he was appointed Chief Resident from 2006-2007. Dr. Adeyeri successfully completed his post-doctoral fellowship At the University of Rochester, New York. Dr. Adeyeri serves as the Chief Of Surgery at Genesis Specialist Hospital.
DR. OLUMUYIWA ONABANJO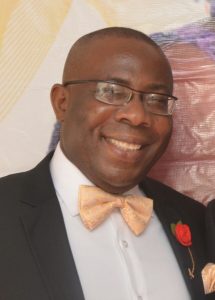 Dr. Olumuyiwa Onabanjo is a seasoned medical practitioner with excellent reputation and rich experience in Internal Medicine and Public Health. Dr Onabanjo is a graduate of the prestigious University College Hospital, Ibadan.He has over 20years of Clinical Practice,Hospital Administration,Health Care Projects Development and Implementation. He has a robust passion for continuous medical education and community health enlightenment.He has been very crucial in the implementation of our operational strategies in Nigeria.Dr Onabanjo is an Ordained minister,Motivational speaker,Life Coach and Lead Pastor of a Fast growing contemporary Church in Lagos,Nigeria. Dr Onabanjo currently serves as the Chief Operations Officer at Genesis Specialist Hospital.